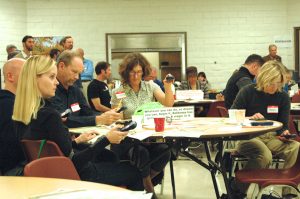 To address today's challenges, PDC bridges agencies, stakeholders and communities using cutting edge communication techniques to move critical public issues toward resolution. Our collaborative, customized approach builds relationships and creates trust, resulting in constructive public meetings, creative problem solving, and empowered decision making.
PDC's public engagement techniques will help you:
Design outreach processes to create broader citizen understanding, trust, participation, responsibility and commitment in resolving critical community issues.
Design and facilitate dialogue processes to generate quality interactions and ideas that lead to the best possible outcomes.
Gather feedback on community priorities and perspectives to help elected officials make recommendations on critical issues like budget, land use, and general plan updates.
Develop concrete, action-oriented solutions to identified problems and challenges.
Move forward through difficult community issues with tested communication processes that foster understanding, invite multiple perspectives, and find common ground between opposing views and diverse populations.
Clarify and create courses of action among conflicting beliefs, values and interests held by various stakeholders.
Create better relationships between local government and residents, characterized by increased trust, respect and mutual understanding.
Build staff and citizen understanding of and capacity for successful civic engagement processes.
Outcomes Of Community Engagement
A more engaged, effective and satisfied level of participation
More constructive relationships among diverse stakeholder groups
An understanding of how community members shape and define issues and problems by their joint actions, and how to move forward into more constructive patterns
Concrete plans and decisions based on collaboration and consensus, resulting in greater buy-in and community ownership
Recognition of one's own and others' legitimate interests, respect for others' beliefs and experiences, and increased understanding of both sides' underlying beliefs and values
Emergent leadership and enhanced capacities within the community to organize and run high-quality, inclusive, and constructive meetings and processes